Remember when I said that I'd been given the line that the second hand store could possibly have "art supplies and more"? Well, no luck in the supplies department. Several easels, all not for sale. Just a lot of "NIET TE KOOP" all over those babies. Ugh.
BUT don't worry. I still found something. And who knows, maybe it will be a little investment someday. Even though there weren't any supplies, there
was
a whole lot of art. Blown glass, ceramics, and a lot of paintings. In fact, I decided to simply buy a painting and use the canvas to start something of my own. I was going to do that until my eye caught a painting I couldn't resist.
I picked it up because it was so beautiful. And only 25 euro. (bargain, right?) Here's a few details below, bad lighting though. You should probably all just come and visit to see it in person...bwahahah
But then I noticed the small plaque with the name, immediately my brain is going: who knows, maybe someone famous? Thoughts of Antique Roadshow went swimming through my head. And I quickly convinced Chris it was a necessary purchase since we've been collecting art each place we travel to. I did a tiny bit of research and turns out some of his stuff actually is worth more than 25 euro, more like 1500 euro...but for now I like it right where it is, in our apartment. The artist is W.J. Nuyen and you can see some of his work
here
and check out what this one's going for at
auction
!
Until our purchase, the only piece of art we;d had was one my Mom graciously allowed us to borrow. It is her print of our original painting done of the night we became engaged, by dear friend Alison Weeden. Here's our small reminder while the gift is packed and awaiting our return to the states. I just love paintings. Have to get started on my own again soon.
Tomorrow we are heading out on the first adventure outside of Leuven. We're not going too far, just to Brussels for the day, but I'm already excited to be exploring. One of our stops will definitely be this little guy: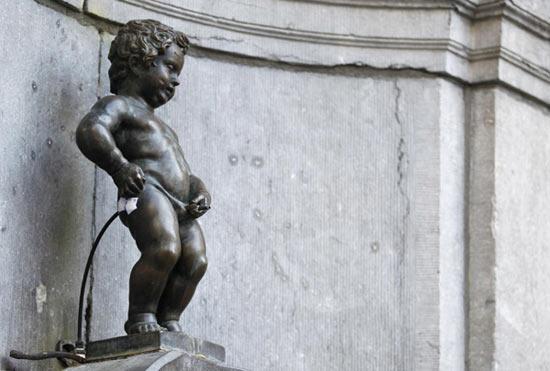 Honestly no one has really told us why he's so famous but they did say that all the best Belgian waffles are found there, and the best chocolate. That's good enough for me. More details to come on Monday!
Enjoy your weekend :)