Now...strictly speaking this post never happened. There are no photos allowed in the castle for tour-time reasons. So I only snapped a few and did so very sneakily and on my ipod only.
This ceiling was my second favorite part of the castle. The first was Ludwig's bedroom. It was made completely of hand-carved wooden furniture. When I say that my head automatically pictures the handmade furniture sold at Arts Festivals in my hometown. No, nothing like that, you have no idea. I had no idea. The lighting in that room was so dim that I didn't even try to take a picture. The website give a little glimpse into it so here is just one photo of the detailed carvings: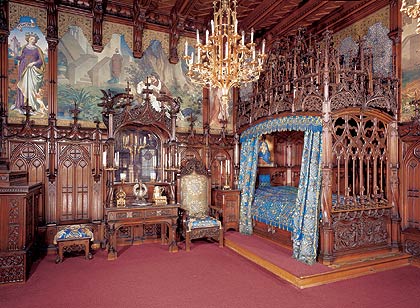 It's amazing isn't it?! On the right of the bed, the same wall paneling continues that you see on the wall straight back in the photo. The best part of this room is that the one panel to the right side is a door in disguise and leads you into his dressing room. I want to live here. But in a much less remote locale.